LOMA Training and Examination
| | |
| --- | --- |
| Global insurance industry considers LOMA as a reliable training program with good quality and source of industry information. LOMA assists insurance industry development by improving staff productivity, assessing and screening staff. LOMA aims to provide insurance company members tools and solutions in order to meet their specified needs. LOMA works together with insurance companies and improves employees' professional skills, strengthens operations and develops business. | |
LOMA I*STAR Computerised Examination
HKAPS has been authorised by LOMA as an Affiliate Member in Hong Kong since 2014. We administer 3 regular examination sessions: (1) 8:30am - 10:30am; (2) 10:30am - 12:30noon; and (3) 12:30noon - 2:30pm) on every Saturdays except public holidays. Our examination site no. is 01608. You may find us in LOMA's online learning platform and register us as your examination site [Click here for details].
LOMA student should book examination in advance and send us the name shown on HKID/passport, 10-digit LOMA Test ID (e.g. 123456789E), name of paper(s) and the preferred date and time to: enquiry@hkaps.com.hk
For the purpose of examination at our Academy, LOMA student can borrow a LOMA calculator from us free of charge.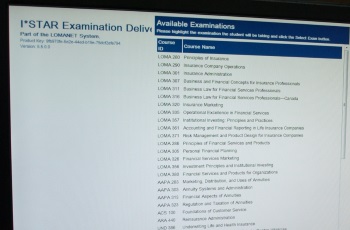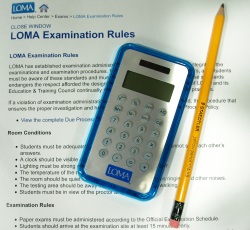 Course Enrollment Fee Discount for Independent Students
"Independent Students" are those who do not affiliate with any insurance company or LOMA member. Our Academy offer course enrollment fee discount to independent students. Please contact us for details: enquiry@hkaps.com.hk

How can I ascertain my Independent Student status?

You can select "My Account" in the pull-down menu at the upper right hand corner after you login LOMA online learning system. Scroll down to the "Work Information" section and you will find that "Independent Students" is shown in the "Company Name" field.
| | |
| --- | --- |
| | Since 1932, FLMI designation is well recognised by global insurance companies and financial institutions as a measure of staff members' professional skills. Students must pass 10 subjects in either English or Chinese in order to earn FLMI designation. |
---
🏆 FLMI Level I Certificate: Two Level 1 Courses
🏆 Associate, Life Management Institute (ALMI): Three Level 2 Courses
🏆 Fellow, Life Management Institute: Five Level 3 Courses